Consumer Proposal Benefits
A consumer proposal can reduce your debts and give you the fresh start you deserve
It's easier to free yourself from crippling debt than you think
Are your debt payments straining your budget and causing you sleepless nights? If so, the good news is that you can reduce your debt by up to 80% by filing a consumer proposal. A consumer proposal has many benefits over bankruptcy.
Your new balance will be much lower, allowing you to meet your payment obligations comfortably. And if that's not enough, you'll never have to pay a cent in interest charges or penalties as you work to extinguish your debt!
For most individuals we work with, a consumer proposal offers far more benefits than drawbacks and provides the debt relief they need to rebuild financially over time. And they can avoid the more drastic consequences of personal bankruptcy as well.
There are many types of debts you can include in a consumer proposal
A Consumer Proposal can include:
Read on to discover how a consumer proposal can help you escape a seemingly hopeless debt situation and build a solid foundation for a better financial future. Or, if you're ready to start the process, contact us, and we'll arrange a free consultation with one of your Licensed Insolvency Trustees. They'll review your debt situation and assist you in crafting the best plan to get the financial relief you need.
A consumer proposal


is the #1 alternative


to personal bankruptcy
Benefits of filing Consumer Proposal In Ontario
In this video, a Licensed Insolvency Trustee explains to Mary and Paul that a consumer proposal might be the way to resolve their debts. The trustee tells them how a consumer proposal is different from bankruptcy and what they need to do.
You don't need to pay anything to speak to an LIT and no one else needs to represent you.
Consumer proposal benefits include: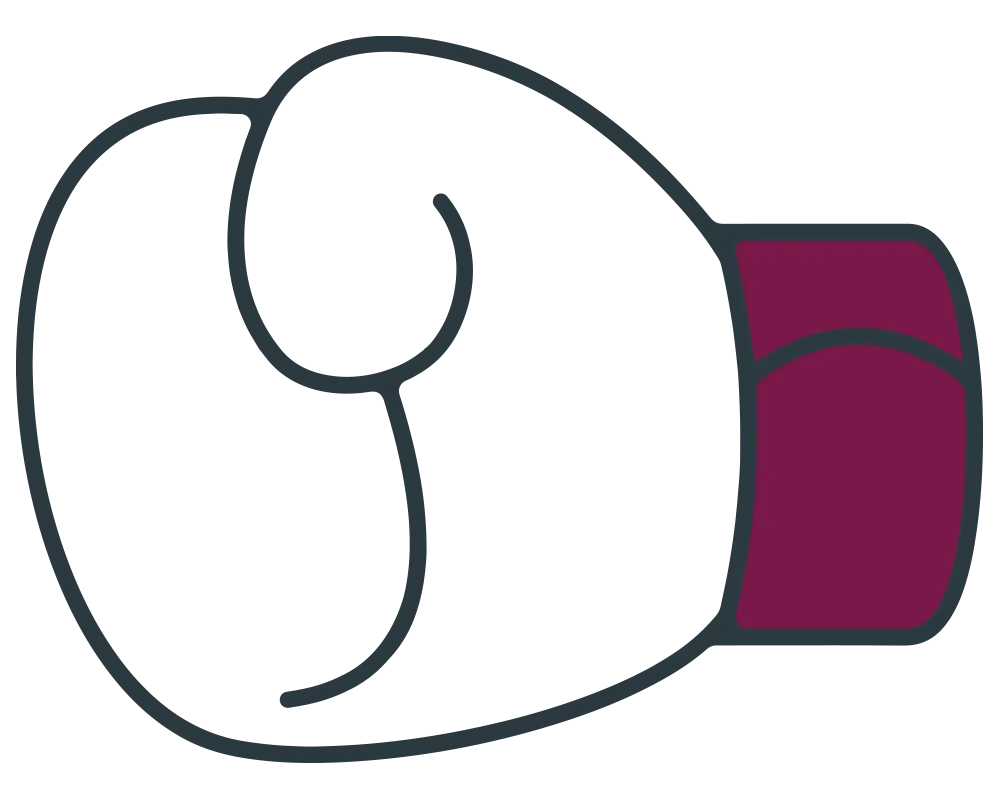 1. Protection from creditors
Once your consumer proposal is filed , you are granted an automatic stay of proceedings. As a result, your creditors can no longer initiate lawsuits against you, including garnishing your wages. In addition, your creditors must also stop contacting you for payment, which means you can say goodbye to those irritating collection calls!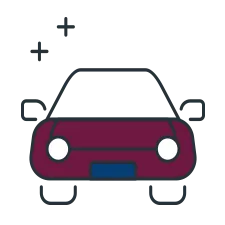 2. Keep your assets
Unlike personal bankruptcy, you're not required to surrender your assets when you file a consumer proposal. Neither your unsecured creditors nor the trustee can seize your home, car, investments, and other personal belongings.
3. One monthly payment
Under a consumer proposal, your remaining unsecured debts are consolidated into a single sum. As a result, you'll only need to contribute one reduced monthly payment over a maximum of five years. No interest or penalties will accrue on your balance, saving you potentially thousands of dollars each year.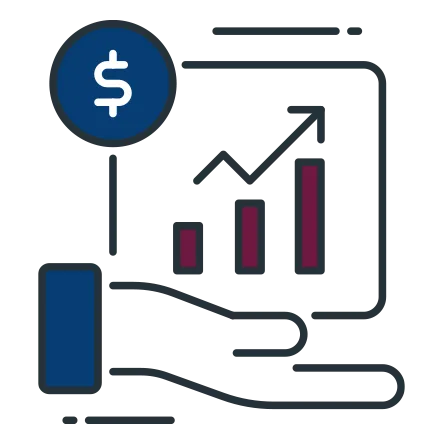 4. Credit counselling
You'll receive two free credit counselling sessions as part of the consumer proposal process. During each session, you'll learn valuable knowledge about rebuilding your credit and avoiding future debt problems.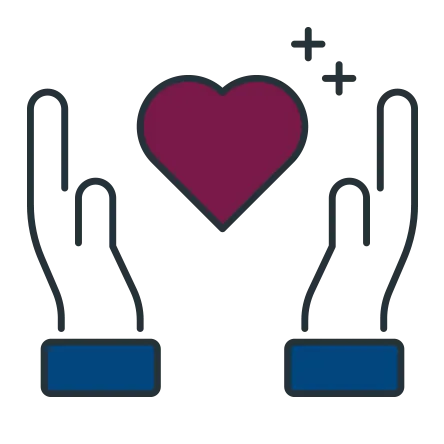 5. Freedom from your DEBT
Under bankruptcy, your monthly payment fluctuates based on how much income you earn. As a result, the more you make, the more you must pay, which can get very expensive for your household.
With a consumer proposal, your monthly payment does not increase even if your income does. As a result, you benefit from a stable and predictable payment schedule. Still, you can voluntarily increase your payments whenever you wish to repay your debt sooner. You can even pay off your balance in one lump sum payment.
6. Legally binding agreement
Once your creditors approve your consumer proposal, they're legally bound by its terms and conditions. They cannot pressure you to increase your payment size or amend the contract while the proposal is in effect. Nor can they send your account to collections or threaten you with lawsuits.
7. Less impact on credit score
Compared with bankruptcy, a consumer proposal has a less severe impact on your credit score. It'll remain on your credit report for three years after you've made your final payment or six years from the filing date, whichever arrives sooner.
Conversely, bankruptcy can stay on your credit report for up to seven years after you receive your discharge which could be between 9 months to a few years following bankruptcy filing.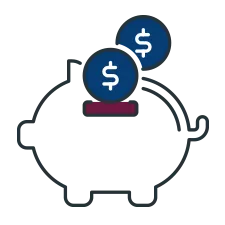 8. Avoid bankruptcy
By opting for a consumer proposal, you avoid the need to file for personal bankruptcy. While bankruptcy can eliminate 100% of your unsecured debts and is the ideal option for some people, it carries some harsh consequences. These include the requirements to surrender certain assets you own and potentially steep monthly payments. There's also a social stigma attached to bankruptcy, which can negatively impact your employment and social life.
9. Freedom from your debt
Say goodbye to unmanageable debt forever! Many of your clients reduce their monthly debt payments by up to 80%. Once you complete your consumer proposal, you'll regain confidence in your financial future. A lighter debt burden will leave you with plenty of room in your budget to cover your household expenses. You'll also have more money to dedicate to your savings, build an emergency fund, and pay off secured debts like a mortgage or car loan
A consumer proposal can save you thousands of dollars
If you have $55,000 of debt, you have a few options of how you could choose to pay it back.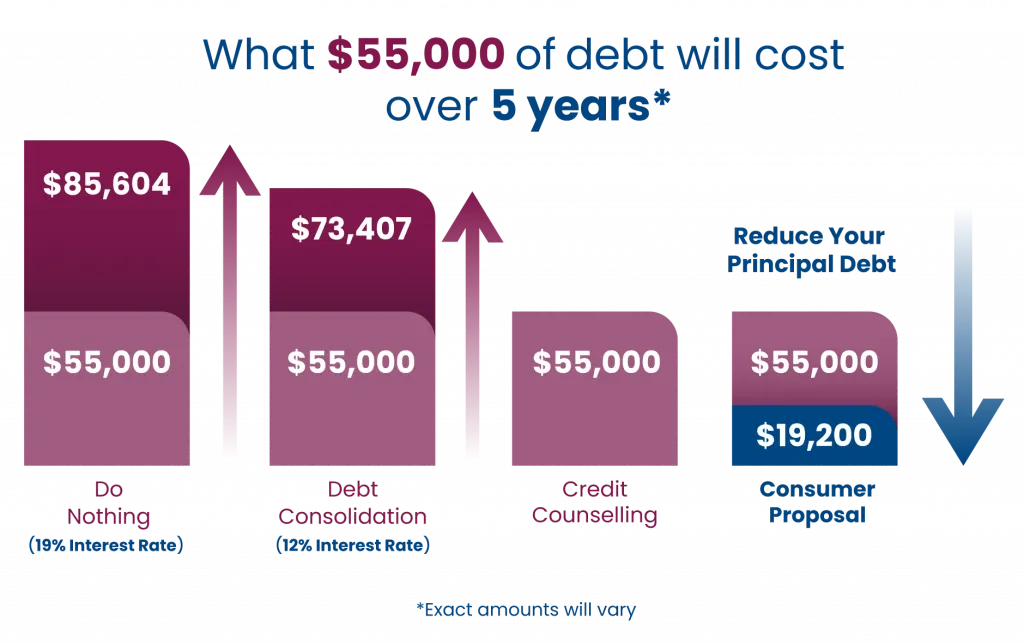 If you're scratching your head and wondering how it's possible to repay only $19,200 of a $55,000 debt, you're not alone. A consumer proposal can reduce your debt by 70% – 80%!
More Canadians choose a consumer proposal over filing personal bankruptcy and here's why: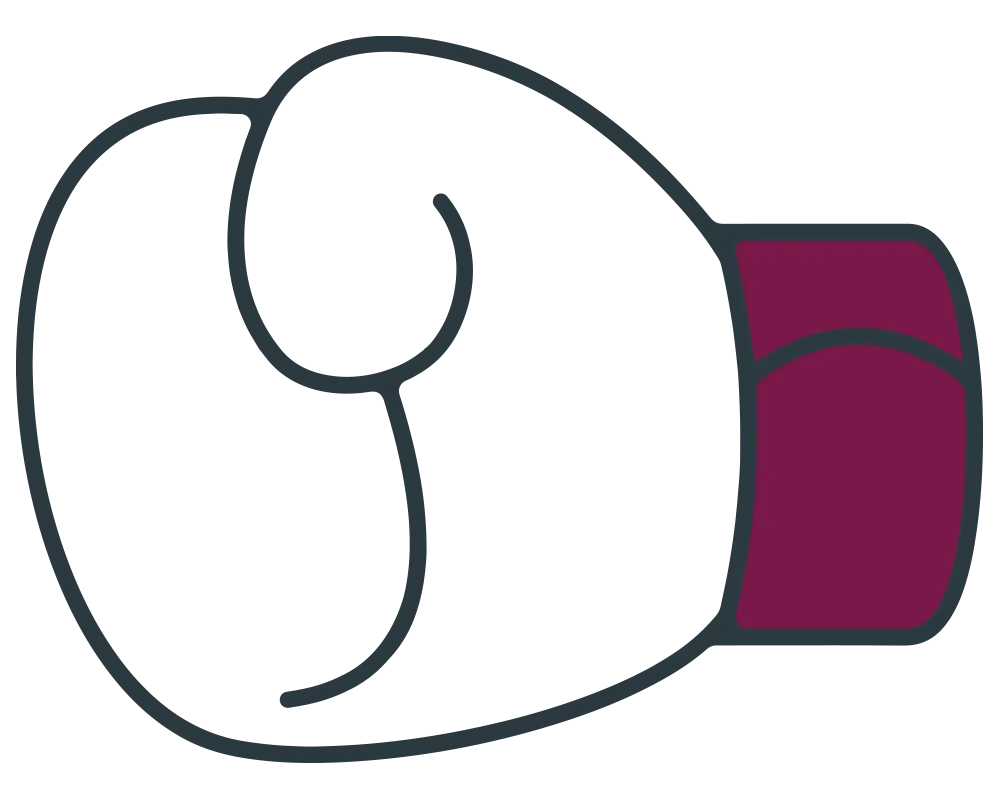 Protection from creditors
Differences to be aware of:
If you have any additional questions about consumer proposal vs personal bankruptcy, we are just a phone call away.
Who do I talk to about a consumer proposal?
Only a Licensed Insolvency Trustee is legally allowed to file a consumer proposal on your behalf. Trustees receive their licenses from the Superintendent of Bankruptcy.
Referrals are not required to speak with a Licensed Insolvency Trustee. Be cautious of debt consultants claiming to get you a better deal. Your creditors do not like working with debt consultants, and this relationship will rarely produce a better deal for you.
It's time to take control of your finances
At David Sklar & Associates, we've helped thousands of individuals conquer debt problems through consumer proposals.
Contact us today for a free, no-obligation consultation to see how filing a consumer proposal can give you the fresh start you deserve.
Advice on Consumer Proposals
Getting into debt is easy. Getting out is a different story.
Did you know there is a Canadian debt relief program federally regulated by the Canadian Government, designed to help citizens avoid claiming bankruptcy? This amazing program can only be administered by a Licensed Insolvency Trustee (LIT).
If you're struggling to make your payments every month and creditors won't stop calling, we can help.
What our clients are saying.
I worked primarily with Christine, who was very friendly and outgoing. She was quick to help me, and explained everything I needed to know very well. She's quick to answer any questions I may have as well. The other members I spoke with were also very kind and jovial, and were happy to help me with anything they could. They made sure my proposal fit within my budget, and got everything going very quickly. I was happy to work with them, and would highly recommend their very friendly service!
1695841291
Very processional and understanding of my situation. Thanks to all your team.
1695320109
Jennifer Norton's exceptional assistance with my consumer proposal was life-changing. Her professionalism, expertise, and dedication were evident from the start. Jennifer's thorough explanations and attention to detail created a tailored proposal that set a clear path to financial freedom. She went above and beyond, advocating for my best interests and providing invaluable support. Thanks to Jennifer, I'm on track to a stress-free financial future. I wholeheartedly recommend her – she's not just a financial expert; she's a life-changer. Thank you, Jennifer!
1695089142
They made a difficult situation, easy thank you.
1694806611
I had a great experience with Christine from David Sklar & associates. Very professional, and easy to get through. Thank you
1694804075
Great customer service and a smooth process to get your finances on track. Informative and thorough.
1694799042
From the moment I sat down in the office, I felt welcome and at ease. Grace Cuffaro was both friendly and highly informative. She is extremely knowledgeable and answered all of my questions in detail, making sure I understood before moving on. I was reassured throughout the process that I was making the right decision and that it was not uncommon nor anything to be ashamed of. I didn't expect my appointments to be such positive experiences, but that's exactly what they've been!
1694670814
I was in a tough financial position and found myself searching for relief. I came across David Sklar & Associates page when doing my research on financial advice. The reviews were amazing, but I was concern because I didn't know what to expect. I made the decision to set up a consultation and had the pleasure to meet with Jennifer Norton. Right from the beginning, she was attentive, knowledgeable, and pleasant to meet with. The experience was painless and very educational. Jennifer made sure I understood my choices, answered my questions, and concerns promptly, in person, over the phone and via email. I've been working with Jennifer for a couple months now and I am pleased that Jennifer is the manager handling my file. I would and have recommend Jennifer Norton, David Sklar & Associates to anyone in need of direction regarding finances.
1694547608
Next Reviews
Our team of Licensed Insolvency Trustees in Ontario can help you get out of debt and in control of your own financial future. We've helped thousands of people and we can help you too. 
We know this is stressful, but
you're not alone.
It's going to be okay.
Book your free consultation today. We'll do the rest.