Consumer Proposal Calculator
A Consumer Proposal can reduce your debt by up to 80%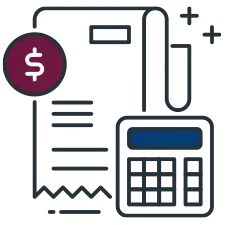 Find out how much you can save with our Consumer Proposal Debt Calculator
Use the slider below to tell us how much you owe and we will show you how much you can save!
*This calculator simply provides an estimate of the total savings you could receive filing a consumer proposal. 
Actual results may vary as each financial situation is unique.  
Your actual payments will be based on your income, assets, and debts.
Do Not Include Mortgage or Car Loan Debt.
With a consumer proposal at 0% interest, you will only have to pay back:
$3,480/$58 per month
A consumer proposal can save you thousands of dollars
If you have $55,000 of debt, you have a few options of how you could choose to pay it back.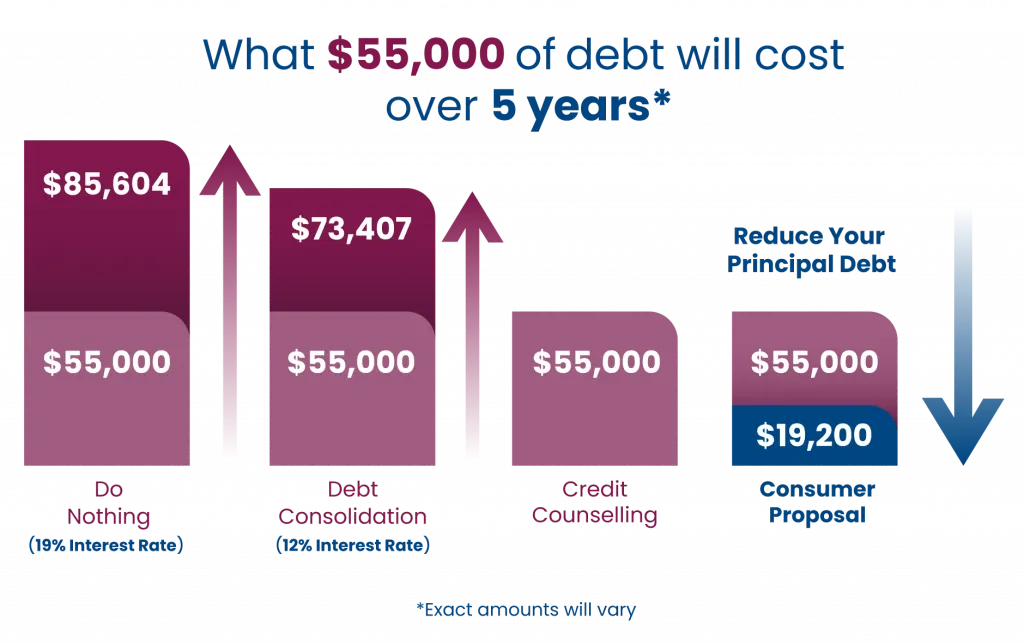 If you're scratching your head and wondering how it's possible to repay only $19,200 of a $55,000 debt, you're not alone. A consumer proposal can reduce your debt by 70% – 80%!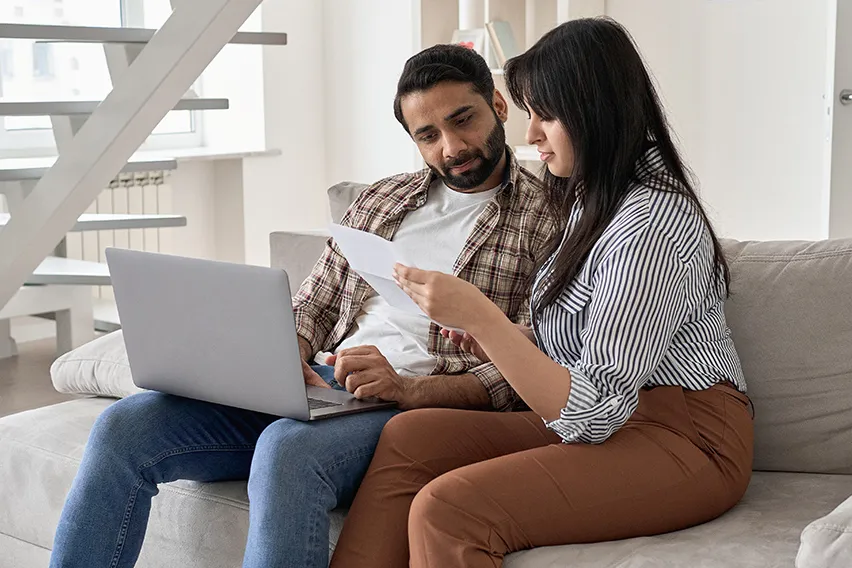 Sound too good to be true?
We don't blame you if you're wondering why your monthly payments are so low under a consumer proposal. After all, it seems too good of a deal compared to other debt reduction strategies! 
The purpose of a consumer proposal is to allow you to negotiate a revised payment plan with your creditors. By forgiving a significant chunk of your debt (in some cases, up to 80%), your payments shrink considerably, giving your budget some much-needed breathing room.
A consumer proposal is federally regulated debt relief program offered by the government of Canada
Life circumstances can change instantly – debts you were perfectly capable of servicing in the past can suddenly become unmanageable. A job loss, divorce, or another major life event can easily set you back financially.
The Government of Canada recognizes that these situations occur frequently. Sometimes people just need a helping hand in rebuilding their finances. It's for this reason that consumer proposals are available in Canada.
The truth is that the government would prefer you file a consumer proposal rather than claim bankruptcy. A consumer proposal allows your creditors to recover at least a portion of your debt rather than nothing, which is what they would receive if you declared bankruptcy. A consumer proposal is a win-win for everyone involved.
So, there's no catch. Your monthly payments under a consumer proposal are incredibly affordable because the rest of the debt is simply forgiven. As long as a Licensed Insolvency Trustee manages your proposal, you have the right as a Canadian citizen to utilize this program to free yourself from crippling debt payments.
For many clients we work with, a consumer proposal often provides all the debt relief they need to get their finances back on track. They can avoid bankruptcy altogether. Learn more about how a consumer proposal works. 
Why a Consumer Proposal is the best
form of debt repayment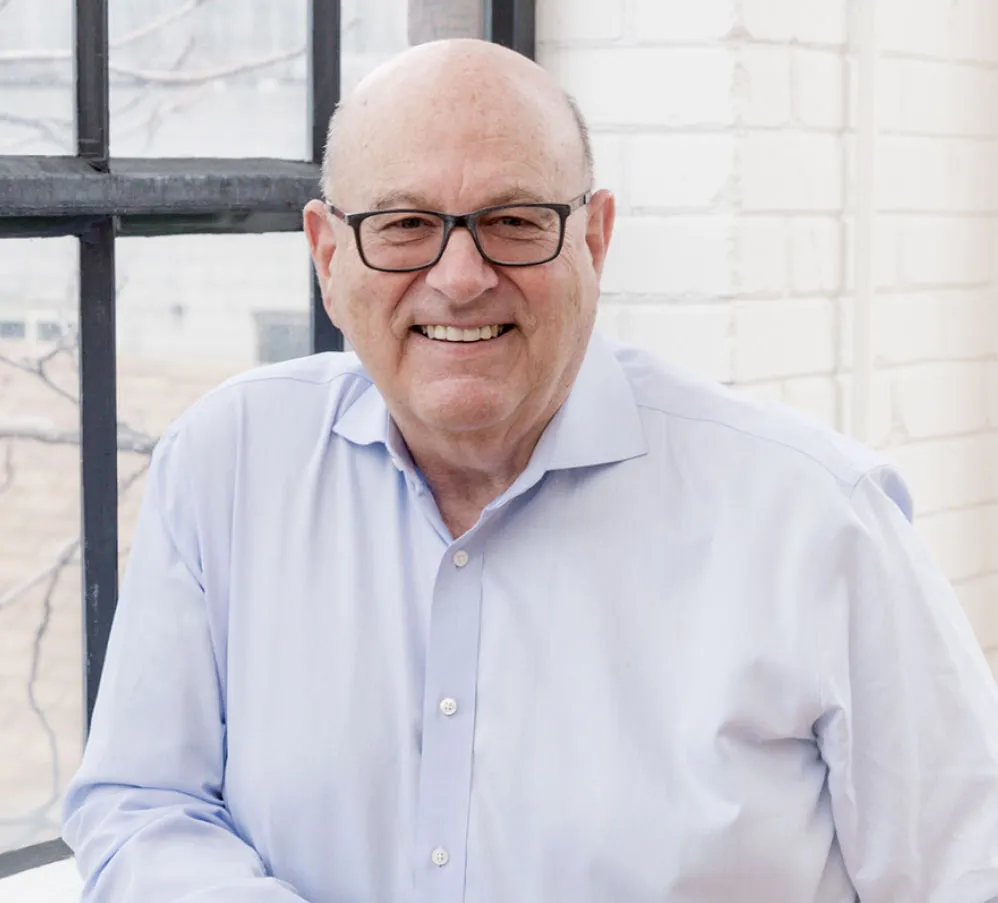 Does a consumer proposal sound like the solution you've been looking for? If so, book a consultation with us for a free debt assessment
We've helped thousands of Canadians and we can help you too
At David Sklar & Associates, we take great pride in our 20+ year track record of assisting individuals from all walks of life in achieving freedom from debt through consumer proposals.
 
Our team of federal-regulated Licensed Insolvency Trustees have the knowledge, skills, and, more importantly, the passion and dedication to guide you through a consumer proposal from start to finish. They can negotiate a payment plan that will be manageable for you and satisfy your creditors. And they'll be there for you every step of the way, answering any questions and concerns as you inch closer to starting an abundant debt-free life.
Contact us today for a free, no-obligation consultation – you owe it yourself!
At David Sklar, our team is here to help you every step of the way. We not only explain every option available to you, we also give you the tools to help rebuild your wealth.
Speak to one of our Licensed Debt Counsellors today.
Let us show you there is hope and a way to financial freedom! The calls will stop, the stress will disappear, and you can start focusing on your future!
A better way than consolidating your debt.