You can reduce your credit card debt by up to 80% in Ontario
Are you struggling to pay down the balance on your credit card debt? If so, we can help.
Why so many people in Ontario need credit card debt relief
Accumulating credit card debt is easy – but getting out of it is a different story altogether. Your balance owed starts off small but, over time, begins growing at an alarming rate. And suddenly, you find yourself struggling to keep up with your monthly payments. If only it were as easy to eliminate credit card debt as it is to hit your credit limit! All hope is not lost there are several credit card debt relief option in Ontario available to you. We can help you find the right solution.
Why is it so easy to get overwhelmed by credit card debt? There are several reasons:
Mindless spending. Since you're not using your own money when charging purchases to a credit card, you're more likely to overspend.
Generous credit limits. Credit card providers offer credit limits that encourage you to spend beyond your means.
Minimum payments. To keep your card in good standing, you only need to pay a minimum amount each month, which allows interest to pile up quickly.
High-interest rates. The average credit card interest rate is 20%. As a result, your balance can balloon to a massive size in a short period. And should you make late payments consistently, your card issuer can increase that rate to 30% or more!
Credit card debt relief is possible in Ontario
We sincerely understand many people never meant for their credit card spending to spiral out of control. Perhaps a job loss, divorce, medical issue, or another adverse life event drained your income and savings. As a result, you had to rely on your credit card to get by. It bailed you out when you were low on cash – but now it's causing you financial hardship.
As dire as your situation may be, credit card debt relief is possible in Ontario. Our federally regulated, Licensed Insolvency Trustees have helped thousands of people resolve their debt issues and regain confidence in their finances. We can help you settle or eliminate your credit card debt and give you a fresh start to rebuild your financial house.
Here are some credit card debt relief options to explore:
Consolidate and reduce your credit card debt with a Consumer Proposal
A consumer proposal is the superior version of a debt consolidation loan. With the help of a Licensed Insolvency Trustee, we will combine all your credit card debts and negotiate new reduced payment terms with your creditors. You'll have the opportunity to slash your outstanding balance by up to 80%, leaving you with a much smaller amount to repay.
Unlike debt consolidation loans, a consumer proposal safeguards your assets from repossession. And it stops any future interest charges and penalties, too. Another significant advantage of a consumer proposal is when the consumer proposal process begins, creditors are legally required to stop calling you and will not be able to garnish your wages. These benefits make a consumer proposal a far more cost-effective and less distressing form of credit card debt settlement. 
A Consumer Proposal is legally binding settlement with your creditors
We can wholeheartedly recommend a consumer proposal to solve your credit card debt woes. A consumer proposal is a federally regulated debt relief program designed for individuals looking to get their debt while avoiding bankruptcy. It's the safest, cheapest, and most effective way to achieve credit card debt relief.
Our team of Licensed Insolvency Trustees can negotiate a legally binding settlement with your creditors. Your existing credit card debt will merge into a single payment plan free of interest and penalties. Once your creditors agree to the proposal, they must adhere to its terms from that point forward
Credit Card debt relief with a Consumer Proposal
We've helped thousands of Canadians reduce their credit card debt with a Consumer Proposal. 
Take a moment to learn about the benefits of consolidating your debt with a Consumer Proposal. Our team of Licensed Insolvency Trustees will help you every step of the way.
Advantages of a Consumer Proposal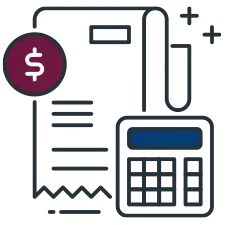 Find out how much you can save
Use the slider below to tell us how much you owe on your credit cards and we will show you how much you can save!
With a consumer proposal at 0% interest, you will only have to pay back:
$3,480/$58 per month
Consolidate and reduce your credit card debt with a Debt consolidation loan
A debt consolidation loan allows you to merge your existing credit card balances into a single loan. Typically, you consolidate credit card debt using a personal loan. However, you can also apply for a balance transfer credit card or home equity loan.
The benefit is that you'll be responsible for making only one monthly payment at a lower interest rate than the one your credit card issuer charges.
However, it's crucial to remember that you're still obligated to repay 100% of your debt consolidation loan balance. If you fail to do so, you risk losing any assets you've pledged as collateral, such as the cash in your savings account or your home.
Consolidate and reduce your credit card debt with a Debt management plan
With a debt management plan, you combine your existing credit card balances and repay your debt monthly through a single payment. A non-profit credit counsellor arranges a debt management plan on your behalf. Usually, they can secure a lower interest rate for you, reducing your overall debt burden and enabling you to pay off your balance faster.
However, much like a debt consolidation loan, no portion of your credit card debt is debt is reduced. You're responsible for paying the balance in full, typically over three to five years.
In addition, your credit counsellor holds no legal authority over your creditors; the repayment plan isn't legally binding. As a result, your creditors can still pursue you for payment and send your account to a collection agency.
Eliminate your credit card debt through bankruptcy - but only as a last resort
The most extreme method for eliminating credit card debt is filing for bankruptcy. It's the option of last resort, where negotiating a repayment plan with your creditors is impossible.
Unlike a consumer proposal, bankruptcy will completely wipe out your credit card debt and any other unsecured debt you wish to include. Once you're discharged from bankruptcy (which can occur in less than a year), you'll have the freedom to start fresh and rebuild your credit.
Unfortunately, you'll have to surrender your assets (with some exceptions) during bankruptcy proceedings. And bankruptcy remains on your credit report for six to seven years.
As with a consumer proposal, a Licensed Insolvency Trustee is the only professional in Canada who can administer bankruptcy on your behalf.
We offer a free, confidential consultation
Take a moment to learn about the benefits of consolidating your debt with a consumer proposal. Our team of Licensed Insolvency Trustees will guide you every step of the way.
Are you overwhelmed by credit card debt and struggling to escape the minimum payment cycle? If so, contact us for a free, no-obligation consultation. We'll explain all your debt relief options and help you choose the one best for you.
We take pride in what we do and hearing how we've madea positive change in our customer's lives is the greatest reward we can receive.
We are here for you when you're ready to live your best life debt free!
Advice on Credit Card Debt Relief
Getting into debt is easy. Getting out is a different story.
Did you know there is a Canadian debt relief program federally regulated by the Canadian Government, designed to help citizens avoid claiming bankruptcy? This amazing program can only be administered by a Licensed Insolvency Trustee (LIT).
If you're struggling to make your payments every month and creditors won't stop calling, we can help.
What our clients are saying.
Luc Valade
Very processional and understanding of my situation. Thanks to all your team.
1695320109
Thomas
Jennifer Norton's exceptional assistance with my consumer proposal was life-changing. Her professionalism, expertise, and dedication were evident from the start. Jennifer's thorough explanations and attention to detail created a tailored proposal that set a clear path to financial freedom. She went above and beyond, advocating for my best interests and providing invaluable support. Thanks to Jennifer, I'm on track to a stress-free financial future. I wholeheartedly recommend her – she's not just a financial expert; she's a life-changer. Thank you, Jennifer!
1695089142
Ray Barkley
They made a difficult situation, easy thank you.
1694806611
fukinwith doug
I had a great experience with Christine from David Sklar & associates. Very professional, and easy to get through. Thank you
1694804075
Adrian Downey
Great customer service and a smooth process to get your finances on track. Informative and thorough.
1694799042
P Bains
From the moment I sat down in the office, I felt welcome and at ease. Grace Cuffaro was both friendly and highly informative. She is extremely knowledgeable and answered all of my questions in detail, making sure I understood before moving on. I was reassured throughout the process that I was making the right decision and that it was not uncommon nor anything to be ashamed of. I didn't expect my appointments to be such positive experiences, but that's exactly what they've been!
1694670814
A.L Thompson-Lawrence
I was in a tough financial position and found myself searching for relief. I came across David Sklar & Associates page when doing my research on financial advice. The reviews were amazing, but I was concern because I didn't know what to expect. I made the decision to set up a consultation and had the pleasure to meet with Jennifer Norton. Right from the beginning, she was attentive, knowledgeable, and pleasant to meet with. The experience was painless and very educational. Jennifer made sure I understood my choices, answered my questions, and concerns promptly, in person, over the phone and via email. I've been working with Jennifer for a couple months now and I am pleased that Jennifer is the manager handling my file. I would and have recommend Jennifer Norton, David Sklar & Associates to anyone in need of direction regarding finances.
1694547608
Tamas Wint
I had my first meeting with Jennifer, she was really understanding and extremely helpful, and got everything done in a timely manner.
1694534757
Next Reviews
Our team of Licensed Insolvency Trustees in Ontario can help you get out of debt and in control of your own financial future. We've helped thousands of people and we can help you too. 
We know this is stressful, but you're not alone.
It's going to be okay.
Book your free consultation today. We'll do the rest.