You need new furniture. Maybe you've moved to a new apartment, and the entire place is empty, with the exception of some major appliances. Maybe your current furniture is worn out and in need of replacing. Whatever the reason, you need to go shopping for chairs, tables, dressers, couches and more. The only problem is that these items are often expensive.
One popular solution is to go to a Toronto lease/rent-to-own furniture store. These stores let you make smaller scheduled payments over a certain period of time instead of paying hefty sums upfront. Suddenly, a $1000 one-time payment becomes a weekly $15 commitment. But, is this arrangement too good to be true? Unfortunately, it is.
The Benefits of Renting Furniture
The main benefit of renting furniture is that it helps people who don't have a lot of savings or credit to rely on. The average lease/rent-to-own store in Toronto doesn't require a credit check or down payment in order to go forward with a rental. They usually need proof of income to guarantee that you can commit to the payments going forward. Renting is accessible. Almost anyone can do it.
Another benefit of renting furniture is that it's convenient for people who are staying in a place temporarily. For example, students living in a dorm room may only need furniture for a couple semesters. Renting the pieces for three-quarters of the year is much more manageable than creating a furniture budget among roommates, buying the pieces and then finding a way to get rid of them when the school year is finished.
Or, maybe you intend to move to another country by the end of the year. Shipping an apartment's worth of furniture to this new home will be very expensive and stressful. It will be much easier to rent furniture until you have to pack up and move elsewhere.
While easy payments and convenient arrangements are great perks, there are some big consequences that come with renting furniture.
The Problems with Renting Furniture
One small issue that comes with renting furniture temporarily is cleanliness. Think of it as renting a car. The company will charge you extra if the vehicle comes back damaged, with scratches on the doors and cracks in the windshield. The same consequence happens with furniture. If you intend to return the piece, you have to put in the effort to keep it in top condition. When you have small children or pets, that can be quite a challenge.
If you are trying to rent-to-own, there are bigger problems than keeping wine stains off the couch cushions that you need to consider. You need to be worried about interest and additional fees that balloon the cost of your investment. You will likely spend more paying rental furniture fees than buying it from a big-box store.
When you go to a lease/rent-to-own store, they will inform you that your payments will come with interest and potential penalties before you sign the dotted line. Hearing this may not give you a full understanding of what this means to your wallet in the future. David Sklar & Associates did a simple comparison to find out the real cost of a rental versus a one-time purchase.
We found a sofa and loveseat combination available at a Toronto lease/rent-to-own store. That combination would be available for weekly payments of $15 for 156 weeks (3 years). Altogether, that arrangement would cost $2,340 by the deadline. After adding taxes ($304.20), you reach a total of $2,644.20
To make a direct cost comparison, we found the same sofa and loveseat combination available online at an Ontario store. Both companies offered free shipping, warranties and guarantees. The one-time purchase price was $1,079. After adding taxes ($140.27), you reach a total of $1,219.27.
That means that a customer at the rent-to-own business is paying an extra $1424.93 for the same sofa and loveseat.
Using the rent-to-own furniture service, you could end up paying double the price or more of a one-time purchase. What makes it more financially frustrating is that you don't have full ownership of the couch and loveseat combination until you make the last payment. It still belongs to the store.
Until that period is over, the store can charge you beyond your regular payments. It can charge you fees for damages or theft. It can charge you if you change your mind and try to terminate the contract. It can also charge you extra for late or missed payments.
Overspending by Accident
A rental payment plan is only one example of how people can accidentally overspend when they're trying to save money. There are lots of ways that you can unknowingly waste funds. You could be spending too much on car payments or spending too much on your weekly groceries. These mistakes are simple, but they add up. Fixing them can put more money back into your wallet. Look carefully at your bills and bank statements so that you can spot the financial warning signs before it's too late.
What Can You Do Instead?
At the end of the day, you can't afford to spend thousands of dollars to furnish your home. There are alternative cost-effective solutions that you can turn to when money is tight. You don't have to see getting taken advantage of by rent-to-own companies as your best option.
Shop at Budget-Friendly Stores
There are several retailers in the Greater Toronto Area that offer home furniture at accessible, affordable prices. IKEA is a great example. You can get essentials like dining-room tables, dressers and bookcases all under $100. Big-ticket items like bed frames and couches will be extremely affordable in comparison to other large retailers.
To maximize your savings at IKEA, here are a few things that you can do:
Sign up as an IKEA family member — it's free. You can get rewards and discounts that could cut down your bill.
Look at IKEA hacks to see how you can make custom furniture out of popular store materials.
Go to their website and watch for sales, discounts and major events like their semiannual Kitchen Event or their Moving Week sale.
Take advantage of their sell-back program where you can return your old IKEA furniture. You will get in-store credit in the value of that item. The program simultaneously lets you get rid of your old items and buy new items at a lower price.
Structube is another one of the most affordable furniture stores in the GTA. To make your shopping experience easier, their website has sections like "Small Budget" and "Sale" to lead you to the items that are in your comfort zone. You can also adjust the price range in your online searches so that you only see items that you can afford. There will be no temptation to overspend.
Look for Deals Online
Right now, retailers are struggling because of COVID-19 and social distancing measures. To make up for the loss in profits and foot traffic, many of them are trying to draw in online customers with intense discounts and clearance sales. Take the opportunity to explore the websites of your favourite retailers to see if you can jump on an unbeatable deal before it disappears.
You should also go on Craigslist, Kijiji and Facebook Marketplace to see what gently used furniture people are trying to sell in your neighbourhood. Consider using these same platforms to sell your old furniture instead of throwing it in the garbage or dragging it out to the curb. This will put more money in your wallet and make purchasing your upgrades a lot easier.
Get Thrifty
Thrift stores are treasure troves. Value Village accepts small furniture donations. So, go to one of their locations to find deals on chairs, side tables, bookcases, hutches and cabinets.
The Habitat for Humanity Restore is another budget-friendly option. It's filled with used furniture, antiques, appliances and more. You can find everything from sofas to renovation materials like tiles, windows and doors. Browse through the options at their locations across the GTA or online.
You don't have to travel far to find thrifty deals. In the summer months, you can also find used furniture at garage/yard/sidewalk sales.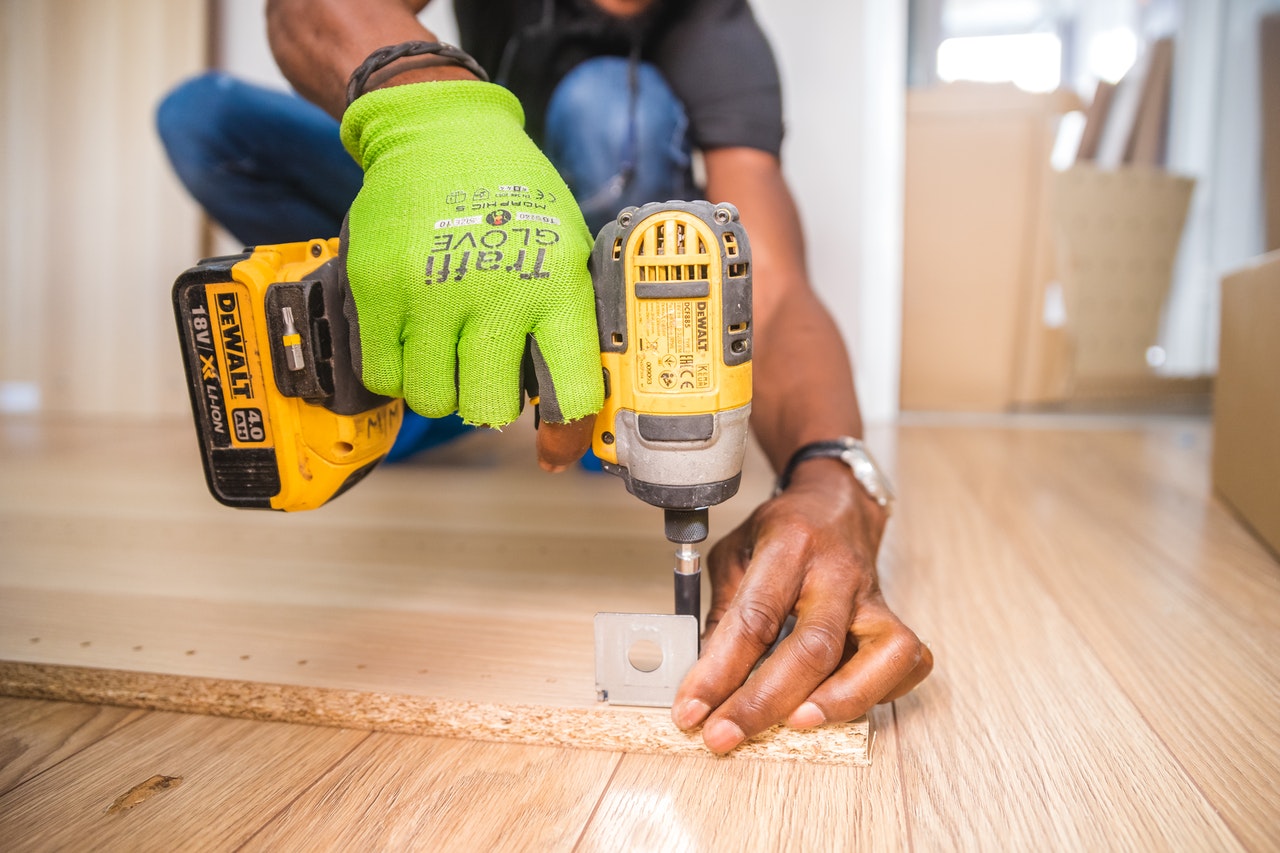 Do-It-Yourself
Maybe the used items at the thrift shop don't seem as nice as the expensive items sitting on showroom floors. Don't dismiss them just because they don't look perfect. You can save money by painting old furniture to make it look stylish and brand-new. A little creative effort can go a long way.
If you're handy, you can also build simple furniture pieces like floating shelves or stools. Materials like nails, screws and pine boards are fairly inexpensive. If you're unfamiliar with DIY furniture, look up tutorials online and do your research before jumping into the project.
Get creative with how you think about furniture. You can use wood crates for shoe racks, wooden pallets for coffee tables, old chairs for nightstands and more. Think outside of the box.
Go to the Bank
The Furniture Bank is an option for families that are very financially vulnerable. This organization accepts furniture donations and gives them to people deeply in need for free. But you can't walk into a Furniture Bank and ask for a couch. You must be referred to the organization from one of their partner agencies or shelters. If you are in a financially vulnerable position and in direct contact with a social service worker, ask them if they are connected to the Furniture Bank and if you are eligible for donations.
Budgeting for Furniture
If you have furniture that is still functional and you just want upgrades, you should put your shopping plans on pause for several months so that you can save money. You could have a larger pool of savings to work with so that you don't have to depend on credit or rentals to get the items you want.
The first thing you should do is download a budgeting app or create a budgeting spreadsheet so that you can calculate your income and expenses. Then, analyze your expenses to see which ones you can trim down or eliminate altogether.
Here are some ideas that will help you save money:
Cut down on takeout/delivery/fast food. Choose homecooked meals instead.
Brew coffee at home.
Don't buy bottled water. Get a reusable water bottle.
Buy generic brands when grocery shopping.
Save energy by unplugging unused electrical devices, washing laundry on cold and lowering the temperature on your water heater.
Cancel unused/unwanted subscriptions and memberships.
Call your cellphone provider to see if you can get a better deal for your payment plan.
Go to a Licensed Insolvency Trustee
Saving up for a simple goal like buying more furniture can be difficult when you're in debt. If you think your debt payments are sabotaging your savings, you should talk to a licensed insolvency trustee. A trustee offers debt-relief services like credit counselling, consumer proposals and personal bankruptcy services to clients. They can direct you to the right service that will bring your debt down to zero and give you an opportunity to achieve financial stability.
You can also use the David Sklar website and blog to learn more about debt and how you can reduce your own. Find out important information like the difference between unsecured debt & secured debt explained and the difference between consumer proposals and personal bankruptcy. And if you still have questions, you can talk to our financial experts at (416) 498-9200 or email them at [email protected].
David Sklar & Associates:
Residents of the Greater Toronto Area have had their lives turned upside-down by the pandemic of COVID-19. Here at David Sklar & Associates, we understand that many residents have been thrown into financial instability because of this health crisis and are concerned about what to do next. If you need financial help, we are still here for you. We offer over-the-phone consultations and electronic document signing so that you can access our services from the safety of your home. We want to encourage our clients to prioritize their health as best as they can during these uncertain times.
When money is tight, something as simple as getting new furniture suddenly becomes complicated. Leasing or renting-to-own may not be a money-saving fix that you want it to be. Luckily, there are alternatives that can help you save money in the short and long term.