Real People, Real Debt, Real Solutions
Standing Together After a Life-Changing Injury
Life had been good to Susan and Bob (not their real names). They had successful careers, three wonderful grown children, and a lovely home in Pickering.
And then, it all changed in an instant.
At 53, Bob got into a car accident, severely injuring his spine, resulting in extended hospitalization, multiple surgeries, and years of therapy.
While Susan was initially able to take time off from work to be with Bob, eventually, she had to give up her job and focus full-time on Bob's recovery.
Bob had insurance, but it didn't provide the financial relief to cover all their costs. As a result, during the first three years following the accident, the couple used up their savings, cashed in their RRSPs, took out a second mortgage, ran up an unsecured line of credit, and maxed out their credit cards.
Luckily, their adult children stepped in and began paying their mortgages. And while Bob and Susan were grateful, they hated being a burden to their children.
Even with the mortgage payments covered by the children, Susan and Bob struggled to keep up with their credit card payments. They began receiving collection calls that added pressure to their already stressful lives. So, they decided to see if filing for bankruptcy could solve their mounting debts.
All three of their children expressed concern over their parents losing their home (even though there was no equity left) and were deeply worried about how declaring bankruptcy would affect their parents' self-esteem. They made it clear to Bob and Susan that they were able and willing to continue paying the mortgages for as long as needed.
Susan and Bob set up an appointment at David Sklar & Associates to explore their options.
How David Sklar & Associates were able to help Susan and Bob tackle their debts
Susan and Bob met with Jackie Stanley, an experienced and caring licensed debt counsellor, who reviewed their finances and debt relief options. 
Bob and Susan were delighted to discover that they could file a consumer proposal, which, if accepted, would stop the collection calls, enable them to keep their home (as long as the mortgage payments continued) and pay of f a portion of their unsecured debt. And they could avoid bankruptcy.
At the time of the meeting, they had no assets beyond the basic exemptions and had a monthly net income of $2,000 from insurance. Their unsecured debt obligations were as follows:
| | |
| --- | --- |
| Credit Cards | $41,850 |
| Line of Credit | $21,500 |
| Total Unsecured Debts | $63,350 |
Here's how much Susan and Bob were able to save by filing a consumer proposal
After reviewing their options with the trustee, the couple decided a consumer proposal was the ideal debt relief solution.
They offered to repay their creditors $20,100 of their unsecured debts of $63,350.
The creditors accepted the offer, leaving Susan and Bob with a much lighter debt load to pay down. Over 60 months, the couple's monthly payments would be $335, which works out to a debt reduction of nearly 68%.
One year into their consumer proposal, Susan returned to work and took over their children's mortgage payments. Bob eventually found a part-time job that allowed the two of them to speed up the repayment of the proposal.
Being able to avoid bankruptcy and stop the collection calls made a significant difference to Susan's and Bob's ability to cope and get on with their lives.
To protect our client's privacy, aspects of this case study have been altered.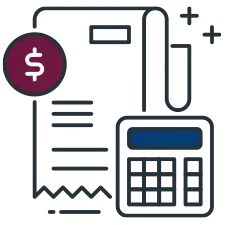 Find out how much you can save with our Consumer Proposal Debt Calculator
Use the slider below to tell us how much you owe and we will show you how much you can save!
*This calculator simply provides an estimate of the total savings you could receive filing a consumer proposal. Actual results may vary as each financial situation is unique. Your actual payments will be based on your income, assets, and debts.
Do Not Include Mortgage or Car Loan Debt.
With a consumer proposal at 0% interest, you will only have to pay back:
$3,480/$58 per month
David Sklar & Associates is here to support your financial recovery
Learn how we can help you find debt relief with a consumer proposal or personal bankruptcy. Our passionate and experienced team at David Sklar and Associates has helped thousands of individuals break free from crippling debt payments. Our experts can answer any questions about your debts and recommend a solution based on your unique needs and goals. 
Let us help you pave the way for a brighter financial future, starting with a free, no-obligation consultation
Real-Life Success Stories Of People We've Helped
Getting into debt is easy. Getting out is a different story.
Did you know there is a Canadian debt relief program federally regulated by the Canadian Government, designed to help citizens avoid claiming bankruptcy? This amazing program can only be administered by a Licensed Insolvency Trustee (LIT).
If you're struggling to make your payments every month and creditors won't stop calling, we can help.
What our clients are saying.
Kris
Christine Sylver was very helpful to my situation. No question asked, she went above and beyond just to give me the options that I need to solve my problems. She explained and made me understand my options. Thank you Christine! Everything was done in a week. Regards, to Richard Sklar for explaining everything further to me. 😊
15:25 05/27/23
Mary M
I was blown away by how kind and empathetic Christine and David were. I came into the process expecting to feel embarrassed, but they were so helpful and unquestionably supportive, they made the whole experience a positive thing. On top of that, Christine found a solution for me that was better than I ever could have imagined. I highly recommend Christine, David, and colleagues to anyone.
22:29 05/15/23
Rob Hultgren
Christine Sylver has been very efficient in working with me in all aspects toward developing a very favourable consumer proposal which meets my financial budgeting very nicely. She also exhibited a very positive pro client attitude and was every pleasant to communicate with. Richard Sklar also demonstrated a very positive pro client attitude in explaining in detail all aspects. All great!!
19:31 05/12/23
John Horan
Dealing with Christine was a real pleasure.She was very understanding professional and knowledgeable she answered all my questions.I left feeling relieved a big burden was lifted from my shoulders
18:39 05/11/23
Jacquelyn Ireland
They are great to work with!
20:08 05/10/23
Hailey Cascagnette
Very happy I got in touch with Jackie! She has been a great help and a pleasure to work with! I highly recommend Jackie if you need help getting out of financial debt.
15:48 05/09/23
Cassandra Arevalo
I had the pleasure of working with Jackie and she made the experience very easy and was very honest which I appreciated as I was extremely nervous to go through with the process. Any questions or concerns I've had after our meetings were answered no problems and although it's been a few weeks I can honestly say I've never felt so stress-free. Very thankful for Jackie.
14:59 05/09/23
Kevin Chase
Very considerate of how people can sometimes make mistakes and need help to get things back on track. Great team of people. Thanks to Jacqueline for all her help.
22:20 05/07/23
Next Reviews
Our team of Licensed Insolvency Trustees in Ontario can help you get out of debt and in control of your own financial future. We've helped thousands of people and we can help you too. 
We know this is stressful, but you're not alone.
It's going to be okay.
Book your free consultation today. We'll do the rest.