Debt Relief Solutions in Brampton, Ontario
We are federally regulated Licensed Insolvency Trustees in Brampton. We provide Credit Counselling, Consumer Proposal, Debt Consolidation & Bankruptcy services
Debt Relief – Brampton, Ontario
You've found yourself in debt. We can show you the way out!
Our team of Licensed Insolvency Trustees in Brampton can help you avoid personal bankruptcy with a consumer proposal. The sooner you reach out to us, the sooner you will regain control of your finances and free yourself from all that financial stress you're living with. 
You may be in a difficult position where creditors are calling and harassing you or maybe you're transferring money from one creditor to another to cover your minimum payments.
Luckily, you're in the right place for debt relief in Brampton. Let's get started. We can help!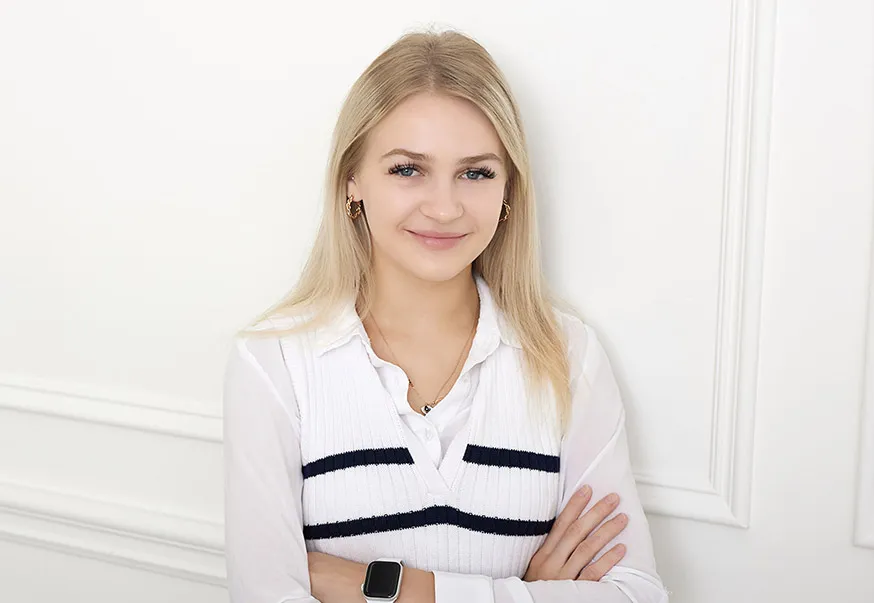 For debt relief in Brampton, meet Jennifer Norton, Licensed Debt Counsellor
Jennifer Norton is a compassionate and dedicated debt solutions specialist with extensive experience in helping individuals overcome financial stress. With a deep understanding of the challenges faced by those in debt, Jennifer provides a caring and non-judgmental approach to finding the best solutions. Her mission is to guide clients towards financial freedom by offering tailored strategies, including negotiation with creditors, repayment plans, and debt consolidation options.
Jennifer's passion lies in empowering individuals with the knowledge and tools to prevent future financial distress, ensuring a brighter and debt-free future for her clients.
A consumer proposal can save you thousands of dollars
If you have $55,000 of debt, you have a few options of how you could choose to pay it back.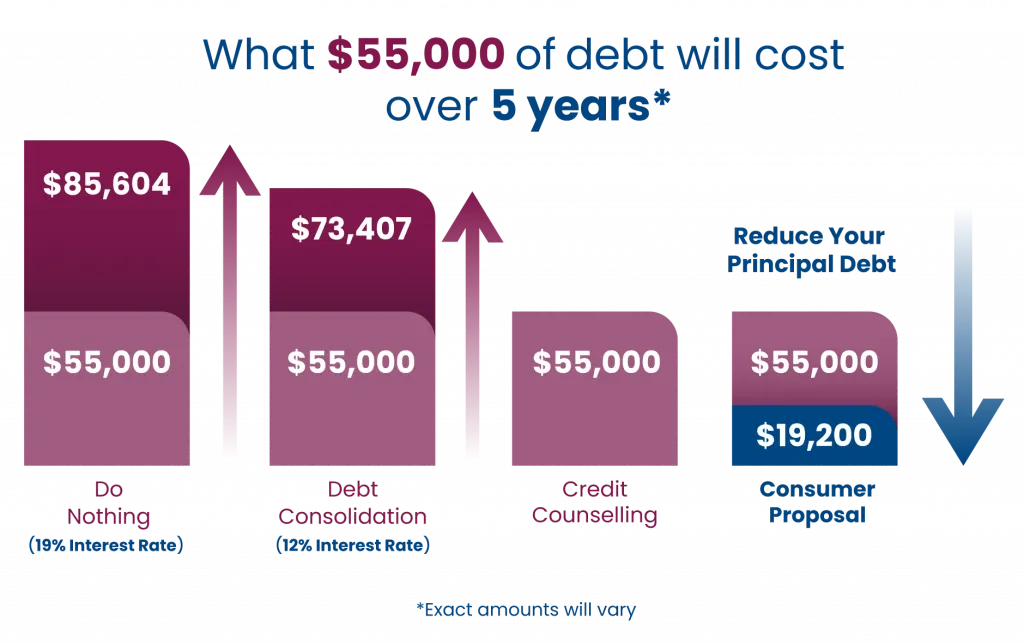 If you're scratching your head and wondering how it's possible to repay only $19,200 of a $55,000 debt, you're not alone. A consumer proposal can reduce your debt by 70% – 80%!
I worked primarily with Christine, who was very friendly and outgoing. She was quick to help me, and explained everything I needed to know very well. She's quick to answer any questions I may have as well. The other members I spoke with were also very kind and jovial, and were happy to help me with anything they could. They made sure my proposal fit within my budget, and got everything going very quickly. I was happy to work with them, and would highly recommend their very friendly service!
1695841291
Very processional and understanding of my situation. Thanks to all your team.
1695320109
Jennifer Norton's exceptional assistance with my consumer proposal was life-changing. Her professionalism, expertise, and dedication were evident from the start. Jennifer's thorough explanations and attention to detail created a tailored proposal that set a clear path to financial freedom. She went above and beyond, advocating for my best interests and providing invaluable support. Thanks to Jennifer, I'm on track to a stress-free financial future. I wholeheartedly recommend her – she's not just a financial expert; she's a life-changer. Thank you, Jennifer!
1695089142
They made a difficult situation, easy thank you.
1694806611
I had a great experience with Christine from David Sklar & associates. Very professional, and easy to get through. Thank you
1694804075
Great customer service and a smooth process to get your finances on track. Informative and thorough.
1694799042
From the moment I sat down in the office, I felt welcome and at ease. Grace Cuffaro was both friendly and highly informative. She is extremely knowledgeable and answered all of my questions in detail, making sure I understood before moving on. I was reassured throughout the process that I was making the right decision and that it was not uncommon nor anything to be ashamed of. I didn't expect my appointments to be such positive experiences, but that's exactly what they've been!
1694670814
I was in a tough financial position and found myself searching for relief. I came across David Sklar & Associates page when doing my research on financial advice. The reviews were amazing, but I was concern because I didn't know what to expect. I made the decision to set up a consultation and had the pleasure to meet with Jennifer Norton. Right from the beginning, she was attentive, knowledgeable, and pleasant to meet with. The experience was painless and very educational. Jennifer made sure I understood my choices, answered my questions, and concerns promptly, in person, over the phone and via email. I've been working with Jennifer for a couple months now and I am pleased that Jennifer is the manager handling my file. I would and have recommend Jennifer Norton, David Sklar & Associates to anyone in need of direction regarding finances.
1694547608
Next Reviews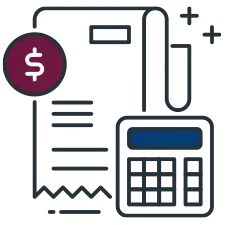 Find out how much you can save with our Consumer Proposal Debt Calculator
Use the slider below to tell us how much you owe and we will show you how much you can save!
*This calculator simply provides an estimate of the total savings you could receive filing a consumer proposal. Actual results may vary as each financial situation is unique. Your actual payments will be based on your income, assets, and debts.
Do Not Include Mortgage or Car Loan Debt.
With a consumer proposal at 0% interest, you will only have to pay back:
$3,480/$58 per month
We take great pride in what we do. Hearing our customers talk about how we've made a difference in their lives is our greatest reward.
How we can help with debt in Brampton?
We help folks from all walks of life with debt and we can help you, too.
Getting into debt is easy. Getting out is a different story.
Did you know there is a Canadian debt relief program federally regulated by the Canadian Government, designed to help citizens avoid claiming bankruptcy? This amazing program can only be administered by a Licensed Insolvency Trustee (LIT).
If you're struggling to make your payments every month and creditors won't stop calling, we can help.